Biddingx industry recognition at the Baidu Exchange Services (BES) Partner Summit 2015 for its leading edge technology and partnering ability.
BEIJING, November 5th, 2015 – Biddingx trumps 2014 win for "Most Powerful Demand Side Platform (DSP)" to secure award for "Best Partner" at the BES Partner Summit 2015 hosted by Baidu, China's leading internet search engine. Biddingx beat off competition from rivals for this award by a demonstration of its unparalleled technical capabilities and effective partnering behaviours.
The BES Partner Summit 2015 comprised of industry heavyweights including domestic DSP and Data Management Platform (DMP) companies and research institutions. Judges were impressed by Biddingx's technical capabilities demonstrated in its multi-dimensional audience targeting approach, proprietary intelligent algorithm technology and big data analysis. Judges found this was balanced with Biddingx's effective behaviours in creating a 'win-win' environment for successful collaboration and integration with other service partners, providing customers with an enhanced overall service.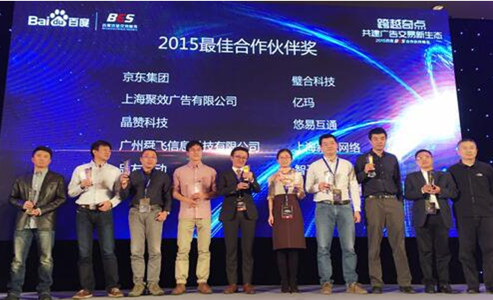 Biddingx representatives collecting award for "Best Partner 2015"
David Zhang, founder and CEO of Biddingx, expressed gratitude to Baidu for its support and its recognition of Biddingx's strategy in China. He also expressed excitement for the future ahead: "China has only just begun programmatic buying and has huge space for development".
Biddingx is exploring global partner opportunities
Following Biddingx's domestic success, Biddingx is now supporting international companies and advertising companies such as Mont Blanc, Jeep and OMD to unlock greater opportunities to reach audiences in China.
If you are a DMP platform, agency trading desk or gaming company looking for an established and leading DSP provider to optimise your advertising penetration in China please get in touch at leifeng@biddingx.com
About Biddingx:
Biddingx is one of China's largest DSPs and integrates with leading Ad exchanges such as Google Doubleclick, Baidu Exchange and Tencent Ad Exchange in addition to more than 20 other domestic Ad exchanges.
Biddingx was founded in May 2011 in Guangzhou by technical experts from China's leading internet companies and is profitable with R&D and technology at the core of its strategy.
Biddingx press contact:
Name: Lei Feng
Mobile/WeChat: +447725139010
Email: leifeng@biddingx.com
https://www.linkedin.com/company/biddingx
https://twitter.com/BiddingxDSP

About Baidu:
Baidu is an internet search giant in China, often portrayed as the Chinese version of Google. Baidu gains most of its revenue from adverts shown in search results but has diversified in recent years with Baidu Wallet, a payments service and a food-delivery service. It currently ranks #11 on Forbes "World's Most Innovative Companies".